Konvekta corrosion-resistant PVC dampers installed at MECD, Manchester.
In all, 130 No. PVC dampers – K500 VCD & B200-PVC non-return types – have been supplied, principally for use within Fume Cupboard Extraction systems.
MECD is shorthand for the new £350m Manchester Engineering Campus Development at Manchester University. This 78,000m2 facility is designed to create a world-leading teaching and research campus to develop the engineers and innovators of tomorrow. Housing over 8,000 people, it will be the single largest home for engineering at any UK University.
Here at Konvekta we value all our customers and the projects they bring to us; but when long-term client Enviroplas Limited asked us to supply our corrosion-resistant PVC dampers for this one, we knew it was special.
Enviroplas Limited have been a Konvekta customer for over 20 years. They value the superior quality of Konvekta products and appreciate the expert solutions we provide to suit multiple industrial process applications.
Particular thanks to Alan Stebbings and Project Engineer, Dave Byrne for once again entrusting KONVEKTA to manufacture and supply Air Control products to the most exacting performance standards.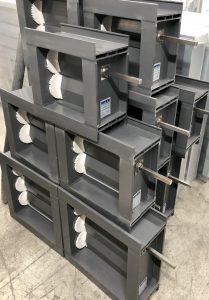 KONVEKTA. QUALITY & PERFORMANCE SINCE 1981